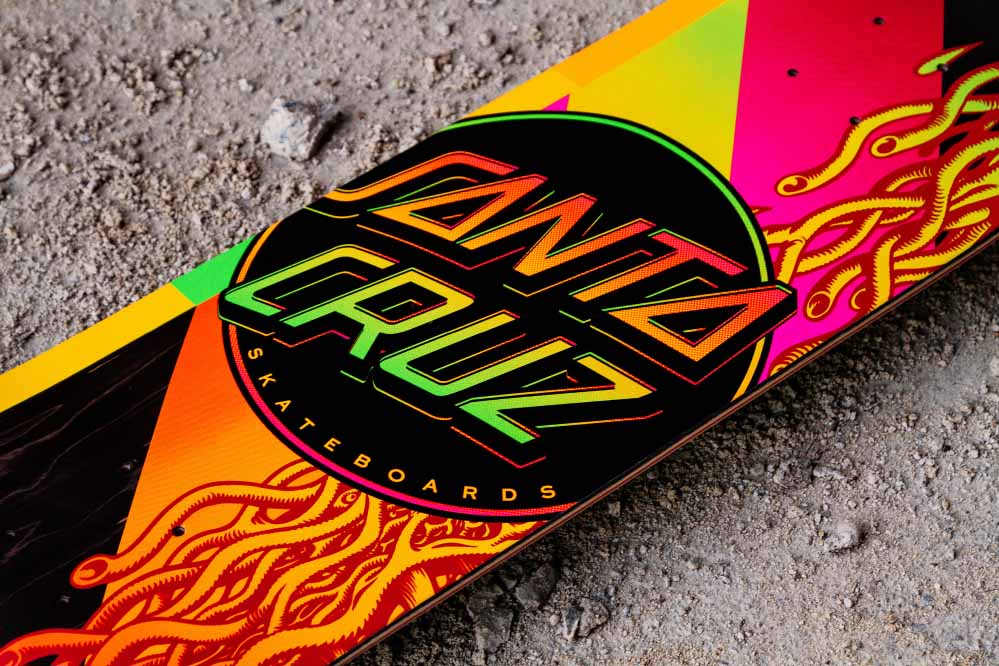 BEFORE WE START: WHY BUY A VX DECK?
I was especially interested in testing the Santa Cruz VX deck because of the following: I was looking for a deck that I could use to skate flat bars, without hesitation or fear of breaking the deck. I also wanted something a bit smaller than my usual 8.38″ deck and one that would flip more easily.
My train of thought was that a Slick deck might be too heavy and a smaller skateboard could break with one wrong move. I weigh about 82kg – not all that heavy, but not particularly light either. I skate in park more than in the street (a ratio of about 2:1). I normally need a new deck every month if they even last that long.
THE SANTA CRUZ VX TECHNOLOGY EXPLAINED
In comparison to regular 7-ply decks, the Santa Cruz VX Skateboard decks consist of 5 plies of maplewood and 2 layers of "Quad X Technology". The Quad X layers combine fiberglass and carbon fiber fabric, which are connected crosswise with each other. These special plies make up the top and second to last layer of VX decks. All in all, this is supposed to make decks with VX technology thinner & stronger, as well as give you a longer-lasting pop.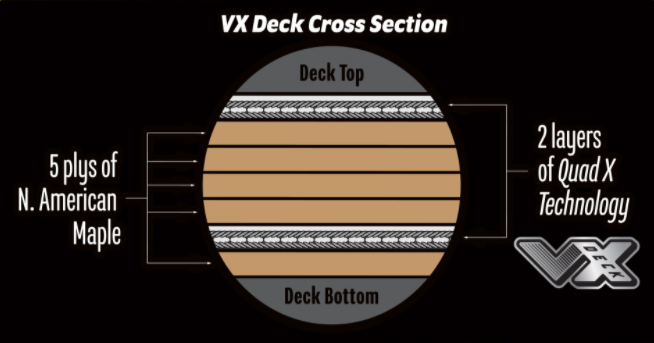 FIRST IMPRESSION: SANTA CRUZ VX SKATE TEST
Two things I immediately noticed were how much thinner the board looked and felt. The sleek matte finish of the top sheet also caught my eye. Setting up the new board, it seemed more difficult to get the screws through the Quad X layers. In exchange, however, the matte finish on top is supposed to make it easier for you to change griptape.
Before getting into the test, I weighed the Santa Cruz 8.25″ VX deck and it was 5 grams more than my old 8.38″ Real Full Shape deck. Bear in mind that a used board is somewhat lighter than a new one because some of the wood has been worn away. Therefore, the VX decks appear to be thinner but are more or less comparable in weight to regular 7-ply decks.